Standing desks are a relatively new concept however are taking modern office environments by storm. Most people know little to nothing about standing desks or even if they would be comfortable working at them. As a convert to standing desks I can tell you first hand, switching from sitting all day to having a workstation that you can sit or stand at is ideal.
If you work 40+ hours at a desk, pushing paper, clicking or typing and have any sort of muscle pain, inflammation or are over-weight, considering switching to a height adjustable desk should be a serious consideration. A desk that you can sit or stand at can improve your health and also lead to reduced muscle pain and an increase in work quality and total output that you are able to produce in a day.
Desk Risers
There are a couple of different options to help you get up and out of your seat. First is the desk riser which you sit directly on your existing desk. These are generally pretty inexpensive and will work for most casual users. They do take up a lot of space on your desk, which might decrease the amount of paperwork you are able to sort through at a time however.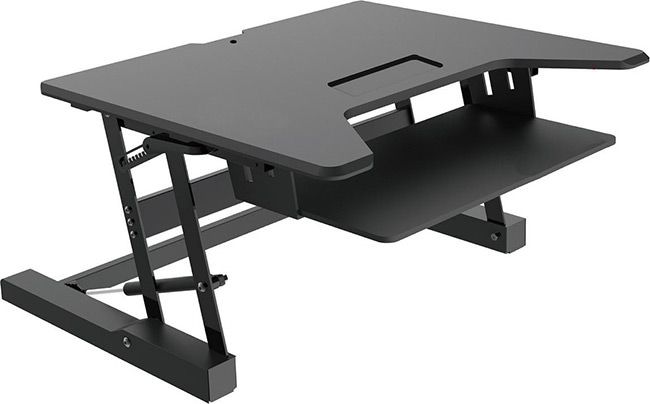 A desk riser is portable and can sit directly on your desktop or table top.
When you want to stand you can lift it to the height you need.
Electronic Height Adjustable Desks
The best option is an electronic height adjustable desk. This is a total replacement for your current workstation and includes several presets for you which allow you to assign a sitting and standing height. The motors do all of the work on these, lifting the desk up when you want to stand and lowering back down when you want to take a seat.

An electronic height adjustable workstation will allow you to freely switch from sitting
to standing as often as you like throughout the course of an average work day.
When purchasing an electronic height adjustable desk, research the company you are buying from. If they have a good track record and testimonials from their customers, that is a great start. Also give them a call and ask them about the quality of their workstations. Ask questions like if they use them, have used them and how their customers like them. Also be sure to ask about a warranty. On an electronic desk the motor is not going to last forever, so you want to be sure that if you buy a workstation that the motor lasts through the warranty and hopefully for many years down the road.
Though, I am a dealer of height adjustable desks, I am also an avid user of these workstations and believe that height adjustable desks will ultimately take the place of sitting style desks which in the long run and earning the track record of being compared to smoking or drinking too much soda when compared to the benefits that a height adjustable desk has to offer.