Creating an environment where two people can work together at a T shaped desk for collaboration doesn't have to be complicated and simply put, by placing two L shaped desks together, you can create a T shape. Desks like this are great for team members and partners who work side-by-side frequently on projects and day to day tasks.
T shape desks can be installed into home offices or businesses and can include privacy panels to create a sense of personal space while still being in close proximity with your co-worker. Other accessories with your desk set can include drawers for storage, keyboard trays, hutch with task lights and tack boards, and other furniture pieces including comfortable office chairs, lateral or vertical filing cabinets, storage cabinets and bookcases.
A full desk set with matching storage can lend itself perfectly to an environment and work to keep desks and work surfaces clear of clutter or other paper work that can be easily filed away.
A T shaped computer desk can be setup in most office environments especially those with open floor plans and can be utilized throughout an office space to create multiple workstation desk pods. Using 4 L shape desks or 2 T shape desks you can create a plus shape where groups of four people can work collaboratively in an open office workstations.
The T shape workstations can be created by conveniently using modular laminate office furniture which is available in numerous sizes and finish options. Additionally, the style of these desks can range from modern workstations to traditional case goods, all of which provide for use and functionality for multiple people at a workstation.
Here are some great examples of some classic setups with T Shape desks for two people:
Modern T-Shape Desk with V-Legs
This stunning T shape desk has a modern contemporary design with edgy angled V legs all the while boasting simplicity and affordability. The top is espresso and the powder coat white drawers offer ample storage. Paired with modern Jazz series chairs, this desk set makes a great first impression!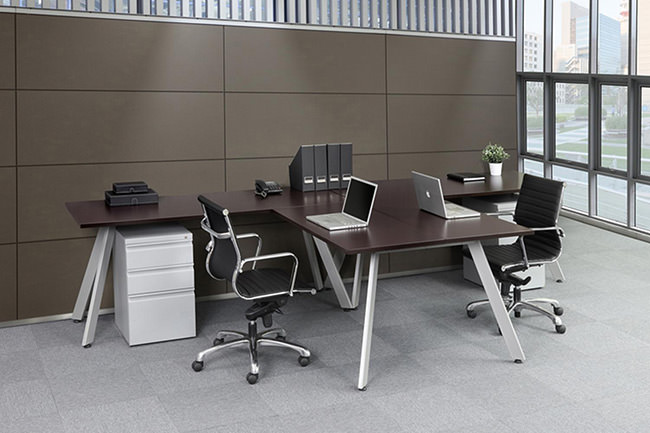 ---
Open T-Shape workstation with Privacy Panels
An open T Shape workstation from Harmony Collection with espresso laminate tops, silver legs, metal pedestal drawers, acrylic privacy panel and overhead storage cabinets with glass accent panels.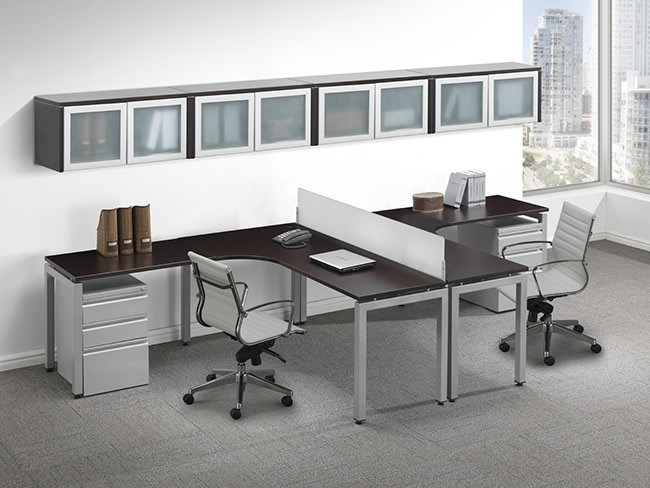 ---
T-Shape Desk with Guest Seating
This T Shape Desk has square silver metal legs, espresso finish top, two rolling mobile pedestal drawers and seating for up to 4 guests and 2 staff members.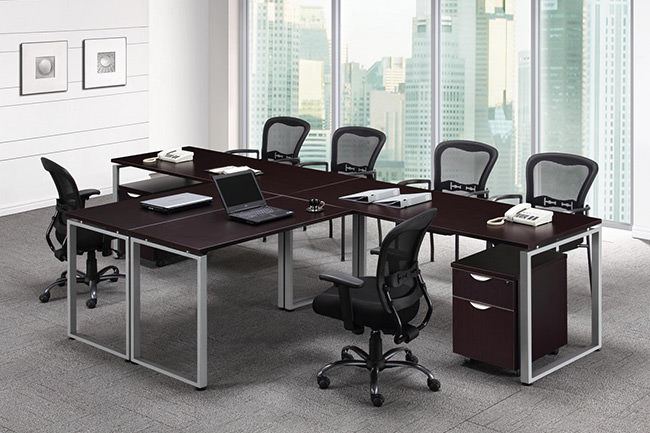 ---
T-Shape Desk with Privacy Panels
Case Goods laminate desk setup with magnetic whiteboard and fabric privacy panels along with a curved main desk shell, and a return with box, box, file drawers in espresso. A great modular commercial desk setup that can be installed in corporate or home offices.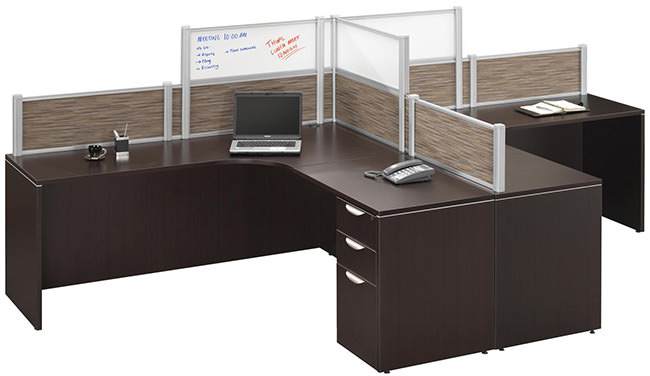 ---
Honey T-Shape Desk with Counter
Another great desk setup but this one includes a counter space in-between the desktops. It allows for passing things between co-workers while still offering privacy with a frosted acrylic divider as well as keyboard trays and drawers for convenience. This is a honey finish laminate desk from Harmony Collection.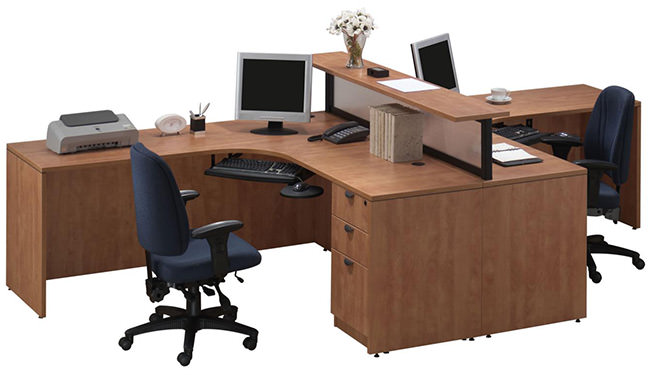 ---
Cherry T-Shape Desk with Frosted Glass Divider Panels
A nice workstation desk setup for two people which frosted acrylic dividers and fabric panels. This desk is pictured in a cherry finish and includes keyboard trays, drawers for storage and a curved top desk.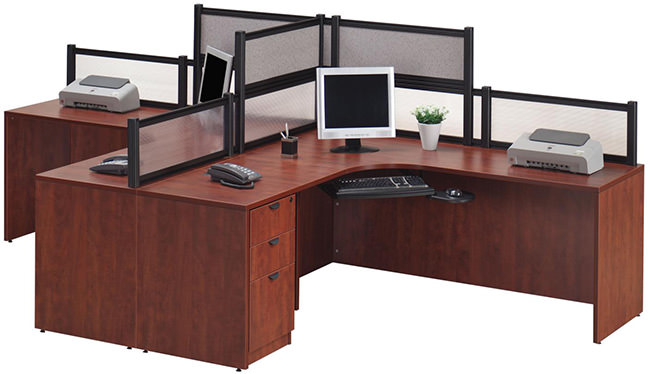 ---
Executive T-Shape Desk for Two People
This executive style T shaped desk setup includes wardrobe and storage cabinets as well as two hutches, tack boards, task lights, keyboard trays, curved bookcases and a privacy panel between the workstations. Great for in a home office, pictured in Espresso but available in other finishes.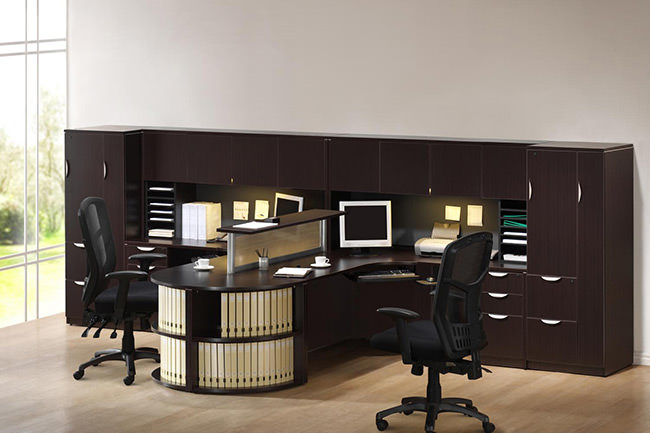 ---
Plus Shape Desk for Four People
Lastly we have two T shape desks that seats 4 people total and includes privacy panels and mobile storage cabinets. This is ideal for installing into an open floor plan or collaborative office environment.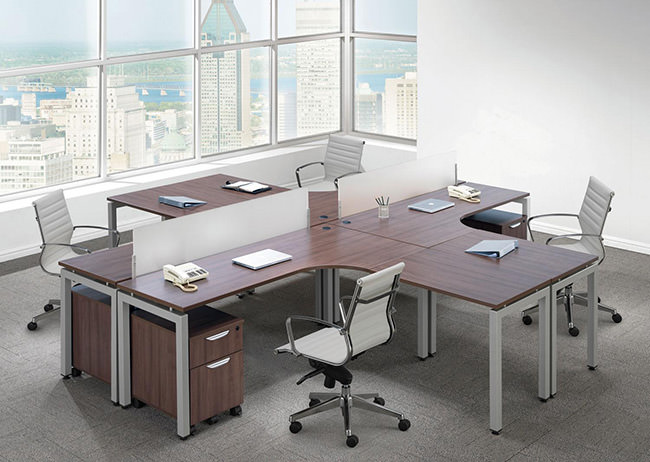 ---
Is your office in need of an upgrade?
Browse more of our L-Shaped Desks and Collaboration Desk Pods and have the perfect desk set delivered to your door in as little as 3-5 days!