Web Developer / Audio Production Workstation
An amazing and inspiring workstation doesn't have to be an impossible dream. Here we planned and setup a hybrid Web Developer / Audio Production Workstation that screams functionality and creativity. Wire management on this project was a must along with Sit to Stand Functionality and various components of an Audio Production Workstation. On completion, this workstation offers a stunning impression and provides the perfect setting for a combination of inspiration and productivity.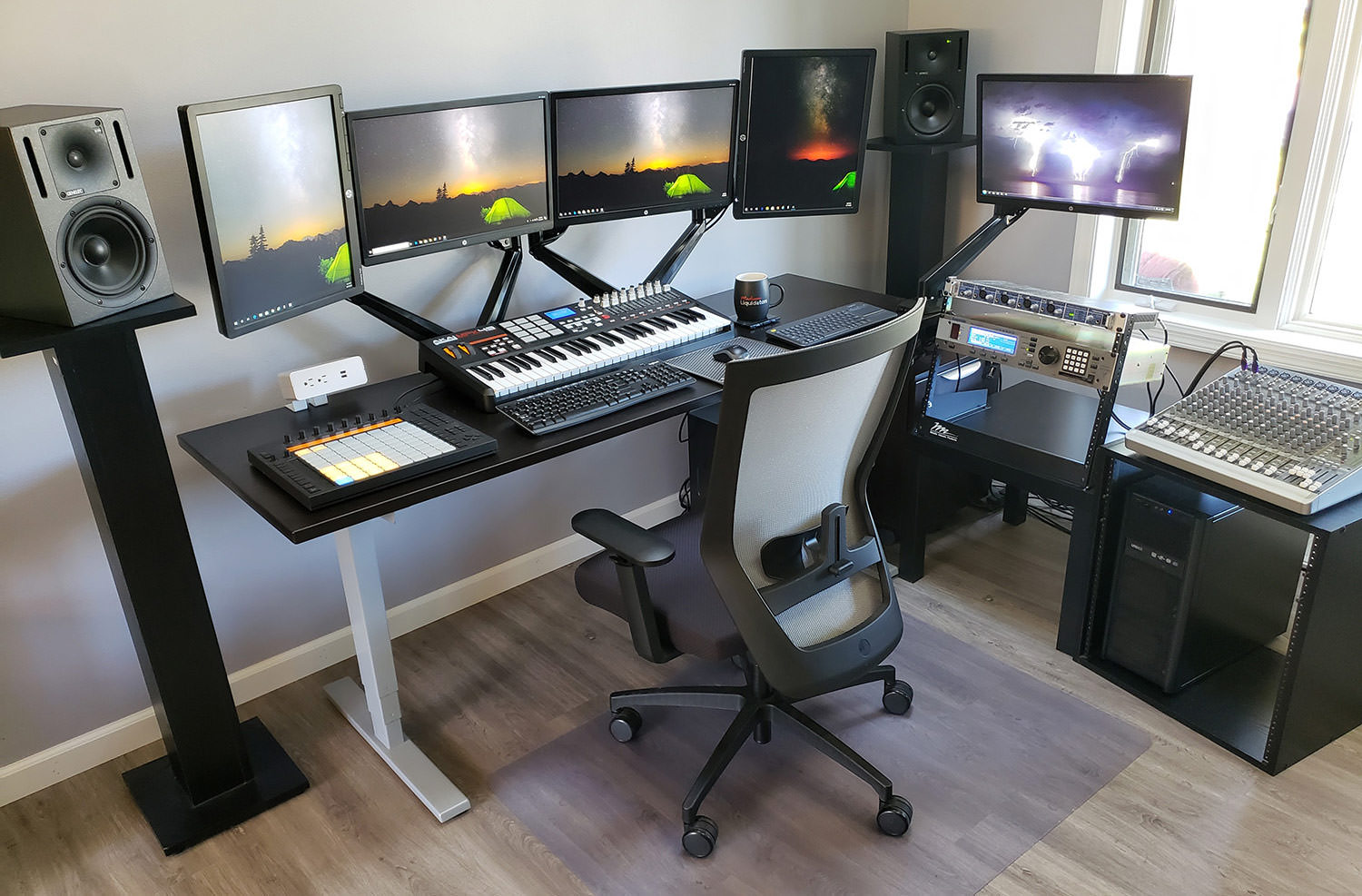 Need help creating your dream work space? Give us a call at (608) 831-1012 and let us know how we can help!
Whether you are a business owner, programmer, lawyer, accountant, no matter your profession, we have office furniture solutions that will exceed your expectations. If you are ready for a change, reach out to us and let us know what you need in order to take your office to the next level!
Office Furniture and Equipment Furnished by Madison Liquidators:
Also shown in this picture (Not available through Madison Liquidators):
Three HP 22uh LCD Monitors
Two HP P19A LCD Monitors
Genelec 1030A Monitor Speakers
Two 48" MDF Speaker Stands
Ableton Push
AKAI MPK49 Midi Keyboard
Logitech K270 Keyboard
Logitech M185 Mouse
Logitech K400+ Keyboard
Middle Atlantic DR-8 8U Desktop Rack
RME Fireface 800
Eventide H8000FW
Mackie 1642-VLZ3 Mixer
Two Custom Desktop Computers Built by Interfuse LLC.
Realspace Hard Floor Chair Mat 36" x 48"
If you want to see our office furniture products in person visit us at 2224 Pleasant View Rd. Suite 6 located in Middleton. We have sit stand desks, ergonomic office chairs, monitor arms and huge collection of other office furniture that can be picked up today or custom ordered!
Featured Desk Components
Related Articles
Creating Two or Four Person Workstation Pods with L Shaped Desks - For most people an L-Shaped Desk is an ideal amount of space for paperwork, monitors, a laptop and other desk accessories. Because of this businesses ...
The Benefits of Having an Ergonomic Desk - If you're reading this article I already know one thing. You or someone you know is sore while working at a desk. Am I right? Maybe your neck, s...
Computer & Office T-Shaped Desks for Two People - Creating an environment where two people can work together at a T shaped desk for collaboration doesn't have to be complicated and simply put, b...
Desk Risers & Sit to Stand Desk Converters - Switching from sitting at a desk all day to to a sit and stand workstation or a desk with a sit stand desk converter is one of the best choices you ca...
Express Office Furniture - Don Smith and Associates - Express Office Furniture is a manufacturer of quality commercial office furniture which is stocked in their distribution centers and warehouses loca...