Copper Antimicrobial Office Chairs
Studies by the National Institute of Health have shown that bacteria, yeasts and viruses are rapidly killed when they come in contact with metallic copper surfaces. Now, a product originally designed for the healthcare industry is being made available for the home office and business workplaces. This patent-pending, award winning product has been designed by Via Seating and we are proud to announce these chairs as a part of our growing product line.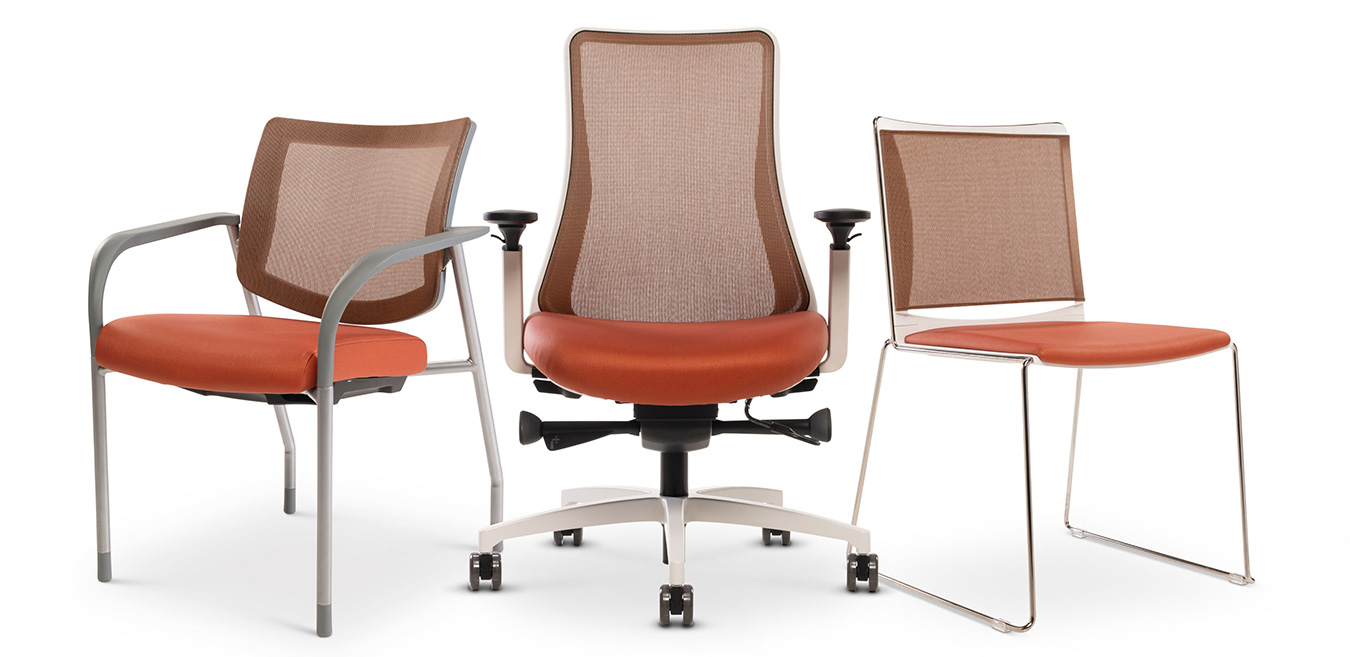 Available in several different styles and countless configurations these office chairs can be customized to your needs. The copper-infused mesh back is biocidal (naturally kills harmful micro-organisms) and works as a passive deterrent against fungus, viruses and odor.
This technology has been developed through a partnership between Via Seating and Cupron which utilized their copper-based proprietary and patented technology to embed copper directly into the fibers of the chairs mesh back. Through this process, the copper will not wear off like topically applied alternatives. This technology provides health benefits to stave off viral based germs and helps to reduce the spread of illnesses throughout the workplace.
The best-selling Genie chair is backed by a 12-year warranty and rated for 24/7 use. Not only is that a testament to the quality but these chairs are also manufactured in the United States! During these unprecedented times, Via Seating has pledged to donate $10.00 for each Genie Copper Mesh chair that is purchased to The Bill and Melinda Gates Foundation for as long as support is needed.
The Genie, Reset, Splash and Vista II chairs are now available for purchase over the phone (608) 831-1012 or through our website and can be shipped directly to your home or office. Additionally, when you receive your new chairs, you will find they are delivered to you almost completely assembled!
Related Articles
Express Office Furniture - Don Smith and Associates - Express Office Furniture is a manufacturer of quality commercial office furniture which is stocked in their distribution centers and warehouses loca...
Computer & Office T-Shaped Desks for Two People - Creating an environment where two people can work together at a T shaped desk for collaboration doesn't have to be complicated and simply put, b...
Commercial Couches & Office Sofas For Great First Impressions - Making a good first impression on customers and clients is tantamount to operating a successful growing business. If your reception area or waiting ...
The Benefits of Having an Ergonomic Desk - If you're reading this article I already know one thing. You or someone you know is sore while working at a desk. Am I right? Maybe your neck, s...
Desk Pods - Office Workstations that improve productivity - Space, like Time, is Money Offices are supposed to be productive workplaces and, while a little bit of chatting can allow for teamwork, share the wor...